Childrens Beach Towels – Cute Just Got Cute-er
Every child has memories of coming out of the ocean or the pool and being wrapped in the warm embrace of their favorite beach towel by mom or dad. The feeling of being wrapped in childrens beach towels is one part hug and one part "ahhh".
When it comes to childrens beach towels there are several different cotton towel types to choose from: classic solid beach towels, classic striped beach towels, character beach towels, and hooded beach towels. Keep reading to see some examples of our favorites. Also, see this article on our site for more in-depth information on each.
Childrens Beach Towels – The Cutest of the Cute
As promised, here are some of our favorite childrens beach towels.
Classic Solid Childrens Beach Towels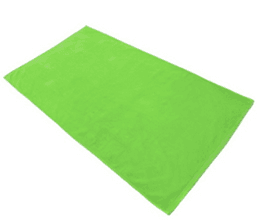 Who doesn't love the simplicity of a bold solid color? Every kids has a favorite, or two, and there is a solid colored beach towel for just about any demand imaginable.
Classic Striped Beach Towels

There may be no better way to say summer at the beach than with a striped beach towel. A collection of various colors as seen in the image above makes it easy for the kids to keep track of which beach towel belongs to them… and keeps sibling arguments to a minimum.
Character Beach Towels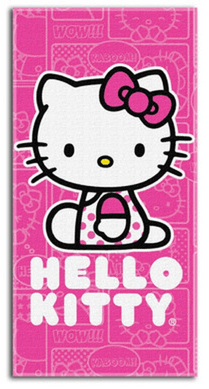 Character beach towels certainly do put smiles on the faces children everywhere. Take just about any movie or cartoon character you can think of and there is probably a beach towel waiting to be snuggled.
Hooded Beach Towels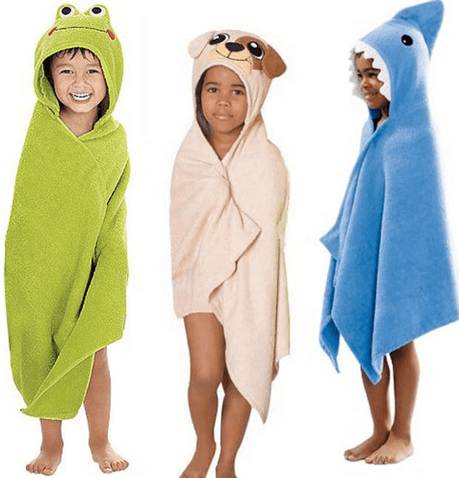 Perhaps the cutest of the cute childrens beach towels come in the form of hooded beach towels. From frogs to fish to sharks to monkeys there a virtually a limitless array of choices available. Of course, boys will be boys and girls will be girls, so be careful trying to talk your 5 year old young man into wrapping up in a ladybug hooded towel!