Which type of cotton towels is the better choice: Pima, Egyptian, or Turkish?
Buying bath towels can be a difficult process if you are unsure of exactly what you want, or even if you are unsure of what to look for that is the best. There are plenty types of cotton towels on the market these days that are enough to confuse even the savviest shopper. One of the most popular questions that people have is which cotton is the better choice to buy, Pima, Egyptian, or Turkish? And is there a different at all, or are they all on the same level of quality? Let's take a look at each of these cottons and see if there really is a superior choice in the end.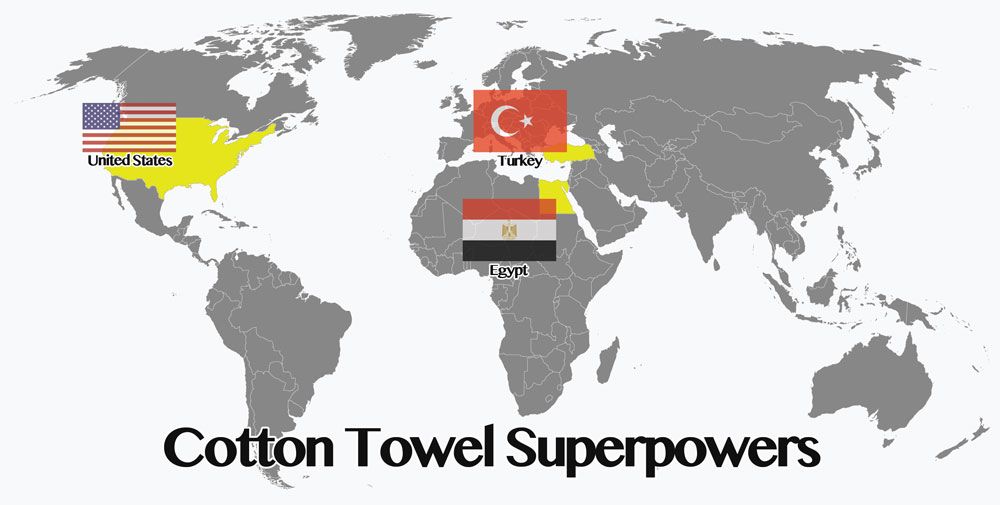 Pima cotton is American in origin but now grows in parts of Australia and Peru. It is basically another name for extra-long staple (ELS) cotton and this has to do with the length of the cotton that is being produced. It is still one of the most common cotton towels sold in the United States since US manufacturers do not need to import any of the cotton to manufacture them. Unfortunately some towels that are labeled as "Pima" are not true. For the top quality towels, you should look for them to be labeled "Supima", which is the trademarked brand you can trust.
Turkish cotton is grown in Turkey, mainly in the Aegean area. This cotton is famous for being super absorbent, soft, and has long fibers. This is great in towels because that is everything that you want a great towel to have. Like Pima cotton, you much make sure that it is labeled as 100% Turkish cotton because many manufacturers like to dupe people on the full content by blending high end Turkish cotton with less desirable cottons or non-cotton materials like polyester.
As expected, Egyptian cotton is grown in Egypt, and it is well renowned for having some of the softest sheets available, but is it good for towels? The short answer is probably not. This cotton is extremely absorbent which means that if you live in humid climates, it is not a good choice to buy because it tends to keep things wet for longer. They can develop a bit of mildew in some cases.
Between the three of them, Pima cotton and Turkish cotton seem to be the better cottons for towels. They are absorbent, but not overly so, and they will be soft enough for you to not be disturbed when drying your body. While Egyptian cotton may be soft, it works best for bed sheets, not bath towels. Now that the differences have been pointed out between these three types of cotton, it should make it easier for you to shop for your next group of bath towels.