When it comes to cotton towel buying, it's not all that easy to get right. Have you every used a really great cotton towel? I'm talking 5-star hotel, softest, warmest, coziest, wish-I-had-these-at-home, best towel experience in your life kind of cotton towel? And then thought to yourself, the next time I'm buying cotton towels, I want to buy one of those?
Truth is, when it comes to cotton towel buying, not all cotton towels are made equal.
Sure, everyone who sells bath towels in department stores and online claims to have the best for your cotton towel buying, but how can you know BEFORE YOU BUY whether you've chosen wisely – particularly if you're buying towels online? Getting familiar with two simple cotton towel buying tips can make all the difference in the world. Read on…
Question #1: What's the
GSM

of the cotton towels I'm considering for purchase?

Cotton towels come in a variety of fabric weights. That fabric weight is measured in GSM (grams per square meter). By knowing the GSM of a cotton towel you will then know the density of the cotton used to create that towel. The lower the GSM number the thinner and lighter the towel. For example, low GSM towels are utility cotton towels you night use while washing your car, in the kitchen, or at the gym. Higher density towels, those with a higher GSM, are the thick, plush, warm towels you fall in love with when you step out of the shower at a posh hotel.
Here's a GSM chart you can use for reference when shopping for cotton towels:
300-400 GSM (light, thin) : gym, kitchen and car
400-600 GSM (medium weight & thickness) : beach, powder rm, hand towels
600-900 GSM (heavy, thick, ultra absorbency) : shower, bath, spa, hotel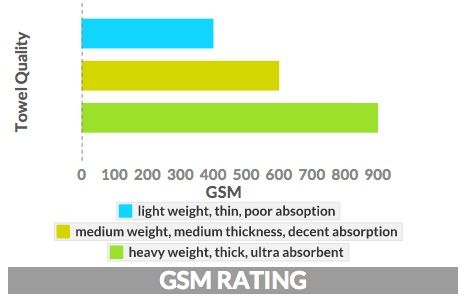 [/black_arrow_list] [/pillow_box]

Question #2: What
type of cotton

is this towel made of?

While it's not widely know, the way a cotton towel feels and even looks is a product of the type of cotton used in manufacturing that towel. Generally speaking you need only concern yourself with 3 types of cotton towels ('cause towels that aren't made from one of these 3 aren't worth your time!):
The Only 3 Types of Cotton Towels You Need To Know
100% EGYPTIAN COTTON: Egyptian cotton is the Cadillac of cottons and, when used to manufacture a cotton bath towel, creates a superior product that evokes the "Ahhhh" when you wrap it around your body. While not always easy to spot, Egyptian cotton towels have longer more dense threads or thread loops thus creating more surface area to pull moisture away from your body while trapping the warmth of that moisture at the same time.
100% PIMA COTTON: A newer competitor to this posh Egyptian cotton towel experience is the pima cotton towel. Pima cotton is grown in America and, when turned into a cotton bath towel, creates a towel that is similar in look, feel, function and GSM to Egyptian cotton towels.
100% TURKISH COTTON: While listed last here, Turkish cotton is nothing to scoff at. With long staple cotton grown exclusively in Turkey you can be assured that you'll be using a luxury towel that is both highly absorbent and durable.
One last thing; before you start buying cotton towels with your newfound education, take a moment to read the 3 WARNINGS below. They will help you avoid a few common pitfalls in the towel buying experience.
Purchasing Cotton Towels – 3 WARNINGS!!
WARNING #1: Steer clear of any towels that don't say 100% Egyptian Cotton, 100% Pima Cotton or 100% Turkish Cotton ON THE LABEL.
For example, you may see towels that are labeled, "Standard Cotton". BEWARE, this label is used for less expensive everyday towels designed for constant wear and tear in the kitchen, garage, pool, beach and cleaning around the house.
WARNING #2: Don't be fooled by the words "
Made with

" on the label

Unfortunately, unscrupulous manufacturers around the world have come up with a little marketing trick to lure buyers into purchasing their sub-par products. The simple yet genius twist is in using the phrase, "Made with Egyptian cotton" or "Made with pima cotton" or "Made with Turkish cotton". This phrase typically indicates that the towels have SOME Egyptian or Pima or Turkish cotton but ALSO INCLUDE other materials like standard cotton and even polyester in their makeup. Read your labels carefully to avoid being duped!
WARNING #3: Don't be fooled by what you FEEL in the store!
Manufacturers using inferior materials (read: NOT 100% Egyptian, Pima or Turkish cotton) have discovered ways to make their soft towels look as thick and feel as soft as premium luxury towels on the store shelf. The problem is that once you wash these towels a time or two the gig is up. Go by what you now know – HIGH GSM & 100% EGYPTIAN, PIMA or TURKISH COTTON. All others are cheap imitations guaranteed to disappoint.
CONGRATULATIONS! You're now ready to master cotton towel buying!